Ars Terra
hosted their
second permaculture workshop
on April 20, and I was excited to attend, despite the 2 hour drive to get there! This time my friend Alia came along to join in the fun!
This was a fun and informal workshop: we started the day with a screening of "
Gimme Green,
" a film on the water-wasting/ecologically harmful nature of the American Domestic Lawn. As the credits rolled, we were all charged up with purpose and ready to go.....
Alia and I rolling up a strip of grass while Geoff looks on: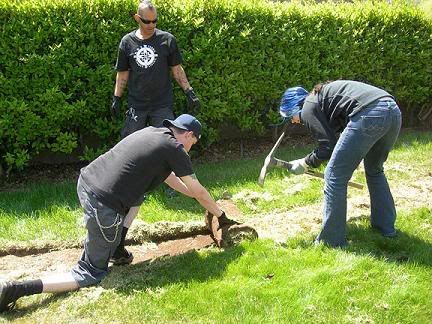 We wrapped things up with a delicious Thai dinner and some good camaraderie.....and a lot of lovin' from the resident dogs of Ars Terra! Alia and I said goodbye and stopped at
Animal Acres
on our way home to visit all the rescued animals. They were lovable and adorable as ever, and this time I got to pet some Emus, a first for me. All the animals are just wonderful, but the turkeys will always be my favorite....they are SO happy to have some attention and a good scratch under their wings. I always have to fight back a tear when I see their clipped beaks and toes. All in all, it was another unforgettable permaculture experience!
The coos at Animal Acres enjoying the sod we tore up from the Ars Terra homestead.....cute overload!