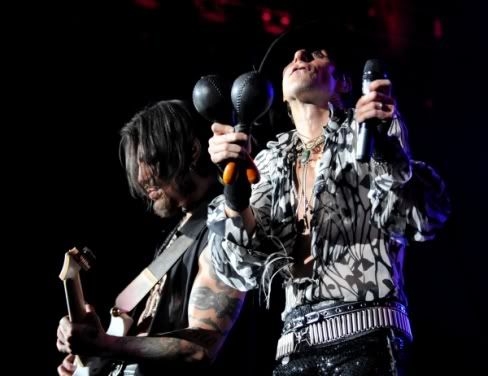 Perry Farrell and Dave Navarro (not my photo, click to go to OCregister.com to see all of their photos)
I had a kick ass time last night at the Nine Inch Nails and Jane's Addiction concert.
Street Sweeper Social Club
opened, featuring Tom Morello from Rage Against the Machine. I'm glad to see that he continues pursuing his social activism beyond the scope of what Rage Against the Machine did; he gave out information for how people could help the homeless and inspired the audience to work to make the world a better place.
Nine Inch Nails played an awesome "greatest hits" set, including a really well done cover of Metal by Gary Numan. After NIN finished, I had a hard time believing that Jane's Addiction could come even close to measuring up, but I was totally surprised. Perry Farrell is an excellent frontman, and Dave Navarro kicked ass on guitar. With the original band back together, a first since the early 90's, they had a great chemistry and really impressed the whole audience.
So what does this have to do with vegan food? Well.....not much, although I had a few margaritas, which are vegan :) But actually, my reason for mentioning my night of fun and frolick was because as we were leaving, the awesome people from
Vegan Outreach
were outside, handing out booklets about factory farming. I've been a diehard concert goer and alternative scene rocker for at least 15 years, and only in the past year or so have I really seen them out in force, so this is definitely a step in the right direction. It was great to see them in action!